Fanchi-tech Dual-trabem X-ray Inspectionis System for Canned Products
Product Detail
VIDEO
Product Tags
Introductio & Application
Fanchi-tech systema Dual-trabis x-radii specialiter destinatur ad deprehensionem particularum vitrearum in vasculis vitreis vel plasticis vel metallicis.Etiam res alienas inutiles detegit ut metalla, lapides, ceramicos vel plasticos cum magna densitate in re producta.FA-XIS1625D machinis uti altitudinem scandentis usque ad 250 mm cum recto productum cuniculi ad TRADUCTOR velocitatem usque ad 70m/min.
The hygienic design with protection type IP66 for the product cuniculi, id facit aptissimum omnibus societatibus et industriis, quae altam valetudinis signa praestare debent.
1.X-ray inspectionem in cibum vel non cibum products et liquores in utres vel dolia
2. Detegit densitatem materiae altae ut metalla, ceramica, lapidea, plastica nec non particulas vitreas in vasis vitreis
3.Scanning altitudo usque ad 250 mm, recta productum cuniculum
4. Facilis operatio cum autocalibratione et functionibus distincte dispositis die 17" touchscreen
5.Fanchi provectus software pro instant analysis et deprehensio cum princeps accurate et reliability
6.High celeritas transversalis pusher ad dolia vitrea avialable
7.Real tempus deprehendatur colorata contagione analysis
8.Functions ad masking of uber partes melius deprehendatur contagione
9.Autosaving inspectionis notitia cum tempore ac date stamp .
10.User-amica operatio in negotiis cotidianis cum 200 pre-statuis productis
11.USB et Aer pro notitia translationis
12.24 horis non-subsisto operandi
13.Built-in remoto sustentatione et servitio per Fanchi engineer
14.CE approbante
US VJT X-ray Generator
Finnicus DT X-ray Detector/receptor
Danfoss frequentiam converter
● German Pfannenberg conditioner aeris industrialis
Gallica Schneider electrica unitas
● US Interoll cylindrus electrica ratio importans
●Taiwanese Advantech industriae computatrum et IEI tactus screen
Model

FA-XIS1625S

FA-XIS1625D

Cuniculum Size WxH(mm)

160x250

160x250

X-ray Tube Power (Max)

Unum latus Beam:

80Kv, 350/480W

Dual-beam:

80Kv, 350/480W

Stainless Steel304 Ball (mm)

0.3

0.3

Filum (LxD)

0.3x2

0.3x2

Glass/Ceramic Ball(mm)

1.5

1.5

Cingulum Celeritas (m/min)

10-70

10-70

Capacitas onus (kg)

25

25

Min Conveyor Longitudo (mm)

3300

4000

Cingulum Type

PU Anti Static

Linea Altitudo Options

700,750,800,850,900,950mm +/- 50mm (can nativus)

Operatio Screen

17-inch LCD Tactus Screen

Memoria

100 species

X-ray Generator/Sensorem

VJT/DT

Rejector

Rejector aeris vel inspirationis Pusher, etc

Aeris copiam

5 ad 8 Bar (10mm Extra Dia) 72-116 PSI

Operating Temperaturis

0-40℃

IP Rating

IP66

Materia Constructionis

Steel 304

Potestas Supple

AC220V, 1phase, 50/60Hz

Data Retrieval

Via USB, Aer, etc

Operatio System

Windows 10

Radiatio Safety Standard

EN 61010-02-091, FDA CFR 21 part 1020, 40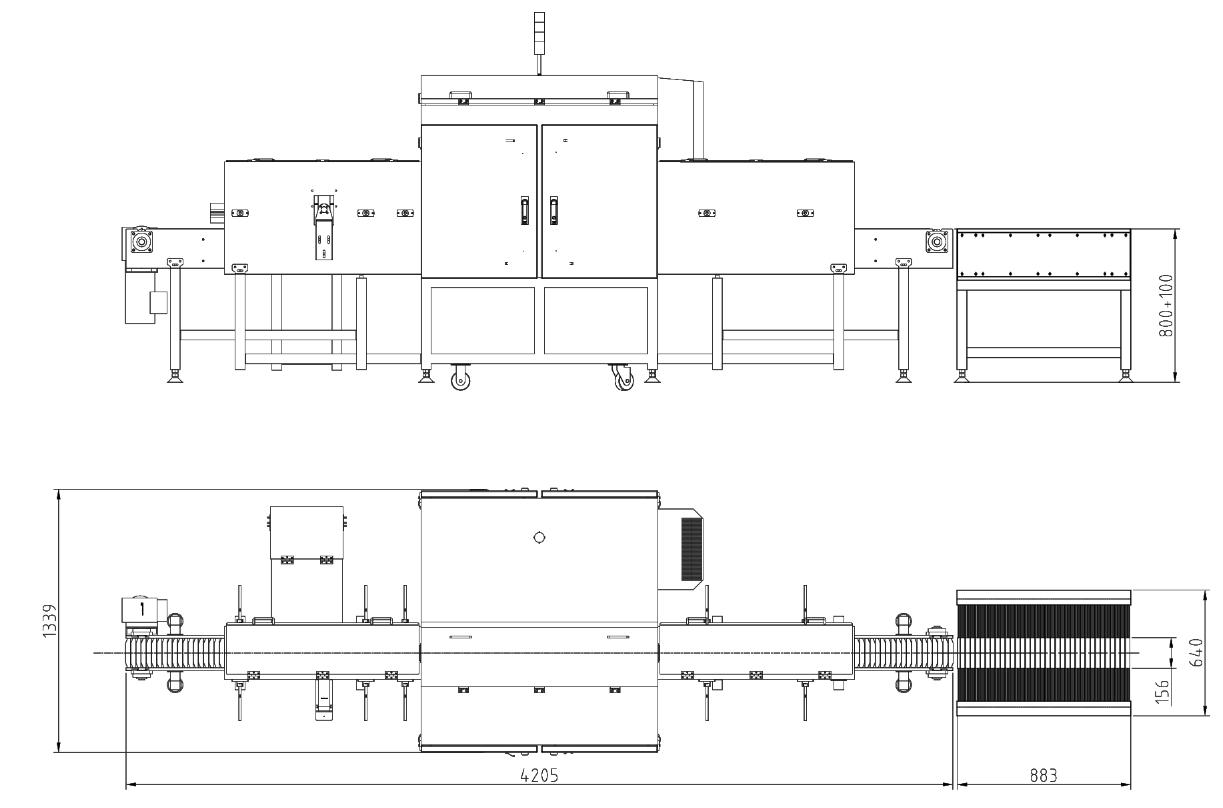 ---
Previous:
Fanchi-tech FA-MD-T Metallum Detector
---