Fanchi-tech Multi genus Checkweigher
Product Detail
VIDEO
Product Tags
Introductio & Application
FA-MCW series Multi-voluptuaria Checkweigher late applicata est in piscibus et squillis ac varietate novarum maritimarum rerum, processui carnium gallinarum, automotive hydraulicarum affectionum classificationis, necessitates quotidianae, pondus sarcinae industriae genus, etc. checkweigher customized to your specifications, you can depend from accurate weight control, maximized efficientency, and consistent product throughput, even in asperis industriae ambitibus.
1.Maximum 12 appendens/states voluptua.
2. Excellent processus et ponderans velocitatem FPGA ferramentis sparguntur cum algorithmis intelligentibus.
3.Automatic parametri occasum ab intelligente productum sampling.
4. Ultra ieiunium dynamicum pondus investigationis et technologiae emendae latae ad efficaciter emendare pondus firmitatis.
5. Facilis operatio per tactum amicabilem velum HMI.
6.Storage of 100 product programs.
7. Excelsa capacitas operandi statistica record cum USB data output.
8. Magna praecisio partium structurarum et chalybs immaculata 304 artus per instrumentum cnc.
German HBM cell onus altum celeritatem
Iaponica Orientales motor
Danfoss frequentiam converter
Iaponica Omron Optic sensoriis
French Schneider Electric Unit
US Gates synchrona balteus
Iaponica SMC pneumatica unitas
Weinview industriae tactus screen
Model

FA-MCW160

FA-MCW230

FA-MCW300

Deprehensio dolor

10~1000g

10~1000g

10~4000g

Scala Intervallum

0.1g

0.1g

0.1g

Deprehensio Sagaciter

±0.1g

±0.2g

±0.3g

Deprehensio Volo

150pcs/min

150pcs/min

100pcs/min

Gravioris Location (W * L mm)

160x300

230x450

300x550

Materia Constructionis

Steel 304

Cingulum Type

PU Anti Static

Linea Altitudo Options

600,650,700,750,800,850,900mm +/- 50mm (can nativus)

Operatio Screen

VII pulgadas LCD Tactus

Memoria

100 species

expende sensorem

HBM cellula alta accurate onus

Rejector

Air Blasting/Pusher/Flipper, etc

Aeris copiam

5 ad 8 Bar (10mm Extra Dia) 72-116 PSI

Operating Temperaturis

0-40℃

Self-diagnosis

Nulla error, photoensor error, error proficiscens, producta nimis prope errorem.

Other Latin Accessories

Windshield cover (hyalina et perspicua), photo sensorem;

Potestas Supple

AC110/220V, 1phase, 50/60Hz

Data Retrieval

Via USB (vexillum), Aer libitum est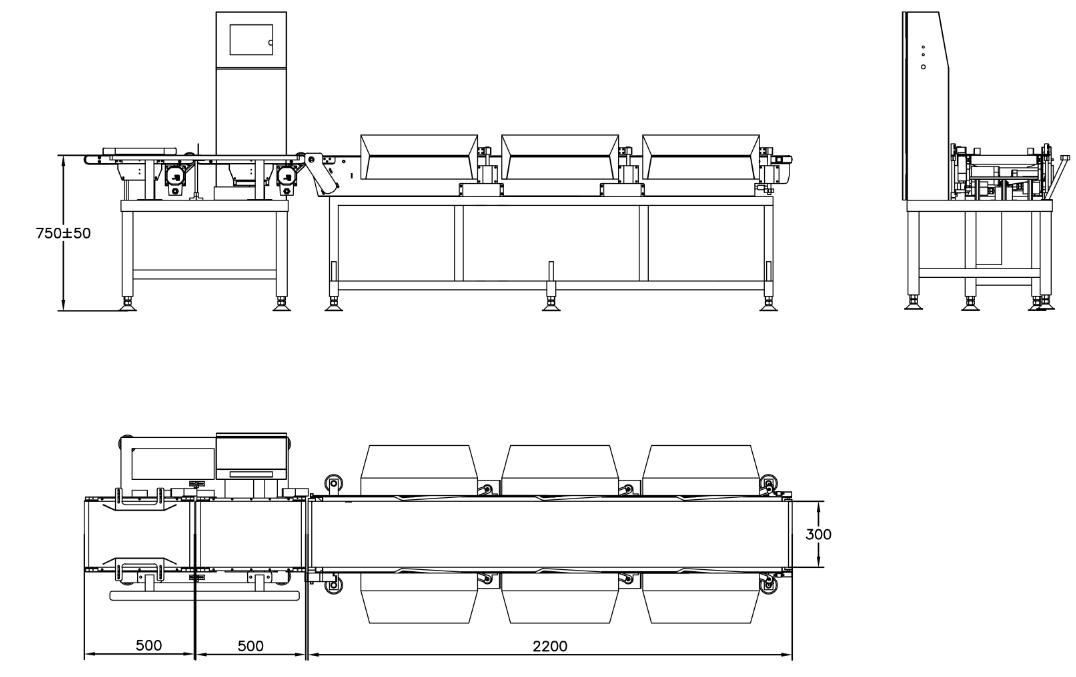 ---
Previous:
X ray Baggage Scanner ad LAPIS
---